LA ZENIA | THURSDAY 12TH OCTOBER 2017 today marks Spain's National Day (the Fiesta Nacional de España). Held annually, it is a national holiday across the Iberian Peninsula commemorating the anniversary of Christopher Columbus's discovery of the Americas in 1492.

In addition to the closure of businesses nationwide the event is celebrated with a military parade in the Spanish capital of Madrid, honouring members of the armed forces who have served to protect the country.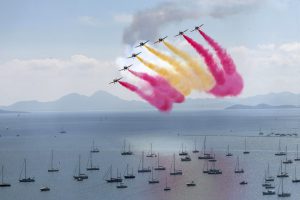 It is customary for the parade to be presided over by the head of state, His Majesty King Felipe VI of Spain, and the serving Spanish prime minister, Mariano Rajoy (Presidente del Gobierno). Typically, the spectacle is accompanied by an aerial display by the Spanish Air Force's aerobatics team, the Patrulla Águila.
Comparable with the United Kingdom's Red Arrows and Italy's Frecce Tricolori, the Patrulla Águila demonstration team (which translates as Eagle Patrol), were originally established in 1985.
The team are based south of La Zenia at San Javier Air Base, a joint military operation in conjunction with the Murcia regions main civilian passenger airport, Murcia-San Javier International.
Operating a fleet of 12 high performance, high maneuverability Spanish made CASA C-101 Aviojet advanced trainer and light attack aircraft, the Patrulla Águila display team have been wowing audiences with their aerobatic stunts, formation flying, and low altitude flypasts for more than 30 years.
The C-101 was chosen for the aerobatic role as it's extensive range, impeccable service record, versatility and agility, lend well to safe controlled flying at the extreme edges of the flight envelope.
CASA (Construcciones Aeronáuticas SA) became a subsidiary of Airbus Military in 2009, and today assembles the Eurofighter Typhoon fighter aircraft at it's production facility in Getafe, south of Madrid.
Accomplished military aviators: the Patrulla Águila aerobatics team
Comprised of 11 pilots and reserve aviators, and led by Eagle 1 Commander Rubén Pérez González, the Patrulla Águila team flies 7 aircraft at each event attended.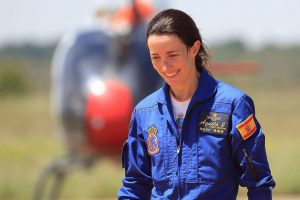 The flight team includes Eagle 2 pilot Rosa Mª García-Malea López, the first female aerobatic pilot appointed to the patrol.
An accomplished military aviator, Rosa García-Malea was the first woman to fly a jet fighter for the Spanish armed forces in 2007, participated in international sorties over Libya in 2011, and has accumulated more than 1,200 flight hours.
The jets are a common sighting around the Murcia and south Costa Blanca coastlines, where they practice and perfect their flight routines before each display, and most recently performed just last month at the Festa al Cel Airshow in the western Catalonian city of Lleida.
Visit the official website to find out more about the Patrulla Águila display team, and where to see them at future events.
Photo credit: Bystricoviny (Slovakia), Fidaegroup (Chile), and Yorokobu (Spain)