PERGOLA PIZZERIA-RESTAURANTE is an established and locally renowned fine dining and casual eatery in the heart of Torrevieja on the Costa Blanca in Spain.
During the summer months, the restaurant is a firm favourite with locals and tourists, who flock to the elegant bistro attracted by it's close proximity to the cosmopolitan city's beaches, a spotlessly clean and contemporary dining room, and the streetside terrace which affords outdoor al fresco style eating all year round.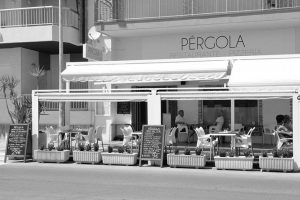 We paid the establishment a visit one evening earlier this week, just one additional venue on our personal quest to find the best possible pizza on the Costa Blanca.
Upon arrival we were greeted with a smile, by a very friendly lady who spoke Spanish and good English, certainly good enough for those of us with limited language skills to comfortably get by, and we did not experience any problems communicating what we wished to order.
We attended for an early dinner, and although the restaurant was quiet at that time we understand that the restaurant can get very busy at peak times so booking is highly recommended – especially if you prefer an outside table on the beachside terrace.
Pergola Pizzeria-Restaurante: a comprehensive menu for all tastes
The restaurant menu is comprehensive with plenty of choice and more than 70 dishes on offer. The cuisine is a fusion of Mediterranean Italian cooking and traditional Spanish food, with something to suit all palates. The kitchen provides a host of options for vegetarian, vegan, and other dietary requirements.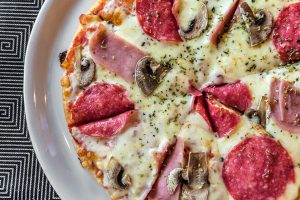 And perhaps uniquely for the area, the restaurant offers ALL of it's pizza and pasta dishes with ingredients guaranteed to be free from gluten.
This is an option for which the restaurant charges a very modest €1.50 in addition to the menu price of the dish being ordered. A very reasonable price, and an absolute boon for sufferers of Celiac disease for whom such Italian luxuries are usually strictly off-limits.
There is a fine selection of starters on the a la carte menu, with plenty of vegetarian options to choose from including a garlic soup, Spanish Gazpacho (a cold served soup), and grilled seasonal vegetables. For meat eaters, the Pergola salad mixes ham and melon or the local favourite: a Veal Carpaccio with parmesan and arugula.
Pergola Pizzeria-Restaurante: from simple dishes to Lobster luxury
Soups and salads are well represented and provide a lighter alternative when the weather is warmer. And continuing the Spanish and Italian fusion theme, the restaurant offers choices such as a Provolone Casserole, fresh steamed mussels, or a garlic and mozarella Foccacia.
No fine dining bistro menu would be complete without an offering to satisfy the pure meat eaters, so we're happy to report that Pergola Pizzeria-Restaurante offer chicken breast dishes, salmon, hake, seabass, and entrecote and tenderloin steaks with a choice of three accompanying sauces.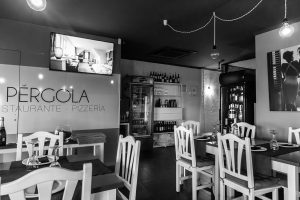 For those looking for the ultimate Spanish experience, the restaurant offers home cooked traditional Paellas with prices from just €9.00 per person, including a luxury fresh Lobster Paella for €16.00 per person.
The popular regional Valencian rice-based dish originated along the Mediterranean coastline, but do remember that in Spain, Paella is ordered to be shared between a minimum of two people.
Pergola Pizzeria-Restaurante: beautiful homemade pizzas
Of particular note is the extensive pizza menu, with no less than 20 different pizzas to choose from (including three wholly vegetarian choices).
On our visit we tried the De la Casa (the pizza of the house), and the Sophia, replete with tuna and onion on a tomato sauce base topped with mozarella cheese. Both orders went to the kitchen with a request for the gluten-free optional ingredients.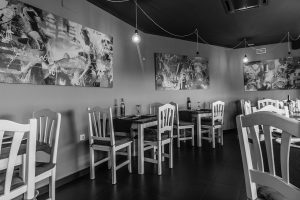 Creating a tasty pizza with a gluten-free dough base is incredibly difficult. Usually, the replacement of traditional wheat flour with rice flour creates a dough which doesn't rise as well, and tends to go sloppy at the slightest application of a sauce.
Service was polite, fast, and efficient. The pizzas were delivered to the table beautifully presented (the photos show the actual pizzas as they arrived).
The pizza bases were perfectly cooked to the centre, crispy, light, and airy. To the taste, if you had not been forewarned that the pizza contained no gluten whatsoever, you simply would not have guessed.
The influence of Spanish fusion is evident within the varied range of Italian pasta choices. In addition to the usual Spaghetti Bolognese, Cannelloni's, and Lasagne's, fresh fish and exotic local pine nut sauces combine to provide a different flavour to the dishes on offer.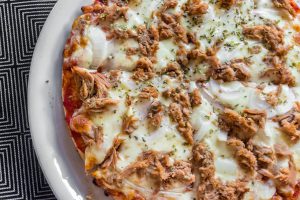 The Black Tagliatelle with prawns and clams is the perfect example of how the kitchen executes this Mediterranean fusion with such precision to produce a unique and mouth-watering dish, that will be so difficult to find anywhere else.
And remember, for a small additional price Celiac sufferers can enjoy their choice from the entire pasta menu without worry or fear.
Pergola Pizzeria-Restaurante: a fine dining restaurant with great prices
The restaurante proves that high quality fresh food need not cost a fortune. Starters cost from just €4.00, meat and fish dish prices start at €8.00, and pizza and pasta main course prices start as low as €7.00. The bistro also offers a Menu del Dia, a fixed price money saving lunchtime deal that combines their fresh food with a choice of drink.
The restaurant owners should be commended for their use of technology and social media, vital for modern businesses yet so frequently absent from local restauranteurs play book here in Spain.
In addition to offering an informative website that showcases their eatery with finesse and style, the restaurant menus can be downloaded in English, Spanish, French and Russian, to ensure that prospective diners can be enticed by the variety of fayre on offer, irrespecive of their nationality.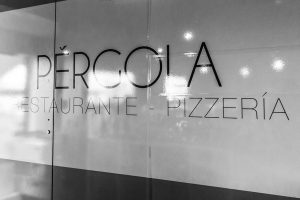 The restaurant menu is high quality, fresh and inclusive, with quite possibly the largest selection of gluten-free Italian menu choices available throughout the South Costa Blanca. Catering for all tastes, with vegetarian options in each menu section, great value prices, and with a beautifully appointed and spotlessly clean dining room in a prestigious city setting; we can highly recommend this fine Torrevieja Mediterranean fusion restaurant.
You can find directions to the restaurant here, the TripAdvisor listing here, or click here to visit the official Pergola Pizzeria-Restaurante website.
Photo credit: Pergola Pizzeria-Restaurante / LaZenia.com