ORIHUELA COSTA CHIRINGUITOS One of the finer aspects of Spanish beach life are the small beach bars stationed at popular points along the south Costa Blanca coastline.
Known locally as Chiringuitos, these café-style bars provide residents and visitors with light refreshments whilst here on holiday. They´re a popular meeting point and watering hole.
The beach bars along the Orihuela Costa coast have received a significant overhaul over the winter months, and the local organisation that administers their day-to-day operation has spared no expense to ensure that the new facilities meet expectations.
Each one has been prefabricated off-site from sustainable materials to minimise the impact on the fragile beach environment.
In addition to the new-look, designed to fit in with their surroundings, the bars have received improved toilet facilities and dedicated lifeguard stations fully equipped to deal with the majority of emergencies.
The lifeguard stations offer essential medical support and first aid to members of the public, and their installation enabled the beaches to retain their Blue Flag status.
Most of the new bars are open every day throughout the summer season, serving a menu of lights bites throughout the day.
The Chiringuitos in Campoamor, La Zenia, and Cabo Roig open all year round, and take part in the council´s Winter Beach program.
Orihuela Costa Beach Bars, Where to Find Them Summer 2020
During the height of summer, the Orihuela Costa Chiringuitos offer a packed social calendar of live music, dancing, and organised events.
Throughout August La Zenia´s Playa Cala Bosque hosts morning Yoga sessions every Wednesday mornings from 10:00 am, and modern dance and chilled house music with DJ Toni Friday afternoons from 4:30 pm.
In what has become something of an established local convention, local rock band Kolted takes centre stage on Cabo Roig´s Playa de la Caleta beach each Sunday afternoon from 3:00 pm, performing acoustic covers of popular classic rock tracks live.
With a busy social calendar throughout the summer, including special events on the beaches of Campoamor, Aguamarina, Playa Flamenca, and Punta Prima, the beach bars put on an admirable show every year that entertains locals and visitors alike.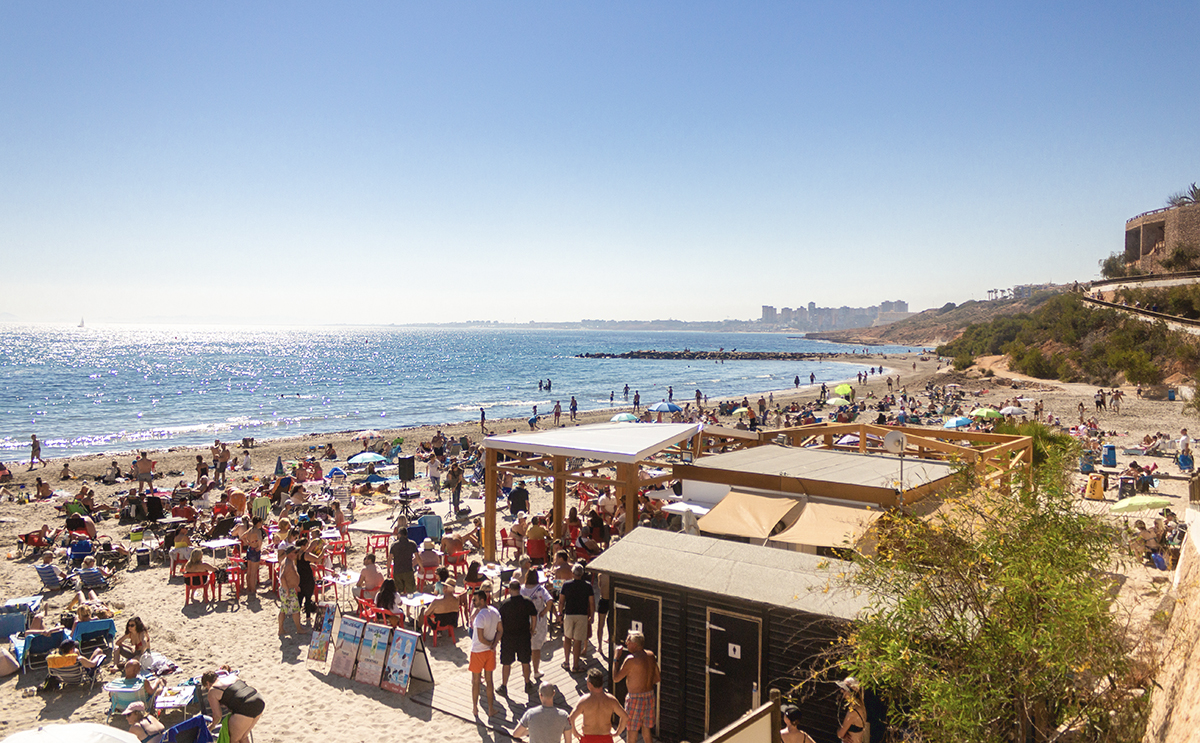 Orihuela Costa Chiringuitos: a summer of Sun, Sea, and Sangria
The Orihuela Costa Chiringuitos provide vital services in beach areas typically devoid of public facilities, and there are 11 beach bars servicing the requirements of sunseekers along the Orihuela Costa and south Costa Blanca coastal regions.
| | |
| --- | --- |
| ORIHUELA COSTA CHIRINGUITOS | |
| La Zenia, Cala Bosque | Google Map |
| La Zenia, Cala Cerrada | Google Map |
| Cabo Roig, Cala Capitan | Google Map |
| Cabo Roig, Playa de la Caleta | Google Map |
| Playa Flamenca, Cala las Estacas | Google Map |
| Playa Flamenca, La Mosca | Google Map |
| Campoamor, Playa de Barranco Rubio | Google Map |
| Campoamor, Playa de la Glea | Google Map |
| Aguamarina, Playa de Aguamarina | Google Map |
| Punta Prima, Playa de Punta Prima | Google Map |
| Mil Palmeras, Playa de Mil Palmeras | Google Map |
The bars, and the team that provide the valued service are locally renowned for their friendly atmosphere, their warm welcome, and their good sense of humour.
A visit to one of the beach bars should be on your list of places to visit while you´re here on holiday in Spain. You can find each one below with these Google Maps links.
Looking for holiday ideas and inspiration for summer 2021? Find out more about our favourite recommended things to do on the Orihuela Costa or join the La Zenia community Facebook group and find out what´s going on in the local area.
Editorial note: This article was first published on 4th August 2019 and updated on Saturday 20th June 2020 with information for the current summer season.
Photo credit: LaZenia.com
The Latest Features: Freshly Posted
---