THE COSTA BLANCA STREET MARKETS are something of a tradition, and a chance to experience some authentic Spanish culture. Every town and village has a local market held weekly, so there is at least one to explore daily.
You'll find the locals buying fresh regional produce to create meals at home for the forthcoming week, often stopping for a bite to eat and a drink at one of the market's laid-back cafe bars. They are well worth a visit during your time here, with visitors met by the beautiful colours of the clothes and the fresh smell of the fruit, vegetables and herbs on sale.
The local markets typically take place from 08:00 and finish at around 13:00. Although sometimes you will find the odd afternoon market, which starts from 16:00 until about 20:00. At the larger markets, car parks are provided free of charge, and there are normally attendants present to help you find an available space during busy periods.
The markets sell everything you might need. The fruit and vegetable stalls are run by local farmers, ensuring the quality and freshness of the locally grown Valencian produce. You will always find a bargain on these stalls, especially if you buy seasonal fruit and vegetables.
Markets take place all year-round in Orihuela Costa
Depending on the season, 2 kg of strawberries can cost as little as €3. The same money can buy 6 kg of oranges at other times of the year.
You will find stalls selling Spanish cheese, Chorizo and Iberian hams. They are definitely worth a try to discover that authentic Mediterranean flavour in your food.
Alongside these stalls, others will be selling seasonal herbs, olives, and fresh bread, and the aroma will positively entice you.
As you wander around the local markets you will hear the bartering between the stallholders and their customers offering a good discount on the advertised price, and it's all part of the experience.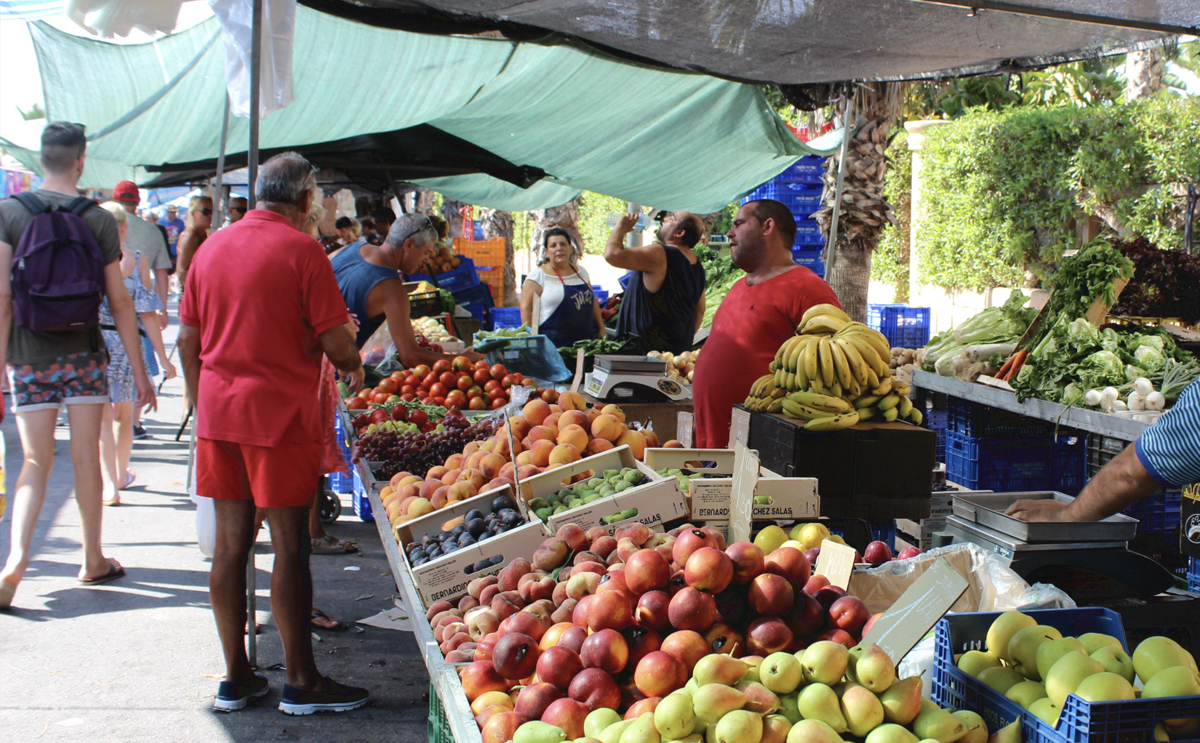 Costa Blanca street markets, a weekly part of life
And of course, there is more than just food on offer. You will find locally made Valencian leather goods such as handbags, belts and high-quality footwear. The smell of tannin hangs in the air, and the quality and price of the handmade goods are virtually unbeatable, with a small Spanish-made leather clutch or handbag available for approximately €10.
Spanish manufactured shoes are a veritable bargain with prices from €15, and you'll always get the best advice for sizing to suit your particular requirements (Spanish sizes might be a little different than you're used to).
All Orihuela Costa street markets feature lots of stalls offering the spectrum of Spanish kitchenware, cooking pans and pots, seasonal plants such as herbs and chillies, and freshly cut bouquets of flowers.
Fashion features at each market too, and the clothes stalls are always worth a look as the fabrics are locally sourced and perfect for the hot weather that the Orihuela Costa experiences in the height of summer. Take a close look at the labels and you might be lucky enough to pick up a beautiful Spanish-made dress for as little as €15.
But the Orihuela Costa street markets would be incomplete without the traditional Spanish handmade lace goods the area is renowned for. Thankfully, you'll find plenty of shawls, tablecloths and many other beautifully produced clothing and homewares.
The delicate designs are eye-catching and of amazing quality, and they make perfect gifts to take back home for family or friends.
If you fancy trying some different markets instead of just your nearest Orihuela Costa local markets, visit Viajes Rosa Tours. They offer day trips to some of the fine local markets further afield on the Costa Blanca and south into Murcia.
A local market should be on your list of things to do on your visit this year. The experience provides a lovely day out and you just might come away with some genuine bargains.
Where are the Spanish markets in Orihuela Costa?
You can find a comprehensive list of the Orihuela Costa street markets below, with some of the more popular South Costa Blanca markets included too.
Looking for holiday ideas and travel inspiration? Find out more about our favourite recommended things to do on the Orihuela Costa or join the La Zenia community Facebook group and find out what's going on in the local area.
Photo credit: LaZenia.com