THINGS TO DO ON THE ORIHUELA COSTA. After a somewhat belated and turbulent start to the summer season things are hotting up nicely, and for many people living in cooler climes, thoughts inevitably turn to last-minute getaways, weekend breaks, and holidays this year.
Recently we published our favourite entertainment destinations a little farther afield on the Costa Blanca, but you don't have to travel far to find fun in Spain, and there's plenty going on right here.
So we thought this would be the perfect time to highlight our top-ten things to do on the Orihuela Costa for summer 2020.

Stand-Up Paddle Boarding, Playa de Cabo Roig
Looking for a different way to stay fit and connect with nature? Try a stand-up paddle-board (SUP) class with Sun Sea Adventures at Playa de Cabo Roig.
The adventures and water sports team offers starter classes for beginners, SUP yoga for those people who really want to improve their balance and core muscle strength, and SUP tours for the more experienced paddlers.
This activity is suitable for all the family, and it's a relaxing, safe, and fun way to enjoy the beautiful Mediterranean Sea and see the locale from an entirely different perspective.
Playa de La Glea, Campoamor Beach
Campoamor is home to three beautiful beaches on the Orihuela Costa – Cala de Campoamor, Playa Diez Picos, and Playa de la Glea; with each beach offering perfectly manicured golden sands, safe warm swimming waters, and Blue Flag standards of cleanliness.
The northern end of the Playa de la Glea offers a spectacular elevated walkway that hugs the vibrant red cliff face and provides a natural thoroughfare directly connecting to Aguamarina beach and its curvaceous promenade.
The simply huge size of the beach, its relative proximity to local amenities, and essential services like a Chiringuito beach bar and a lifeguard service throughout the summer months make it a firm favourite location for savvy holidaymakers and sun-seekers.
Live Music Summer Nights, Villamartin Plaza
Villamartin Plaza's summer entertainments schedule is legendary, attracting international artists from all four corners of the world.
And for the 2020 season, they've pulled out all the stops to provide world-class entertainment throughout the summer and into September. With local acts performing alongside famous musicians, the Plaza provides nightly entertainment three days a week during the holiday season.
British 70s icons "The Bay City Rollers" closed out last year's sessions, and Villamartin Plaza promises another star-studded summer of fabulous live music for 2020.
The Best Orihuela Costa Beaches, Cala Bosque and Cala Cerrada
La Zenia's beaches are exceptionally popular with both locals and holidaymakers alike, with two beaches to choose from separated by the imposing Hotel Servigroup La Zenia hotel that overlooks both sandy strips.
Known locally as Playa Cala Bosque, the main beach in La Zenia has become even more popular since the opening of Zenia Boulevard shopping centre, which has contributed to the fast-paced rapid growth of the area.
Cala Bosque beach offers a total length of around 350 metres and an average width of 60 metres to the shoreline, whilst Cala Cerrada is a somewhat smaller cove-shaped beach. Both beaches sport 100% pure white golden sand and Blue Flag accreditation.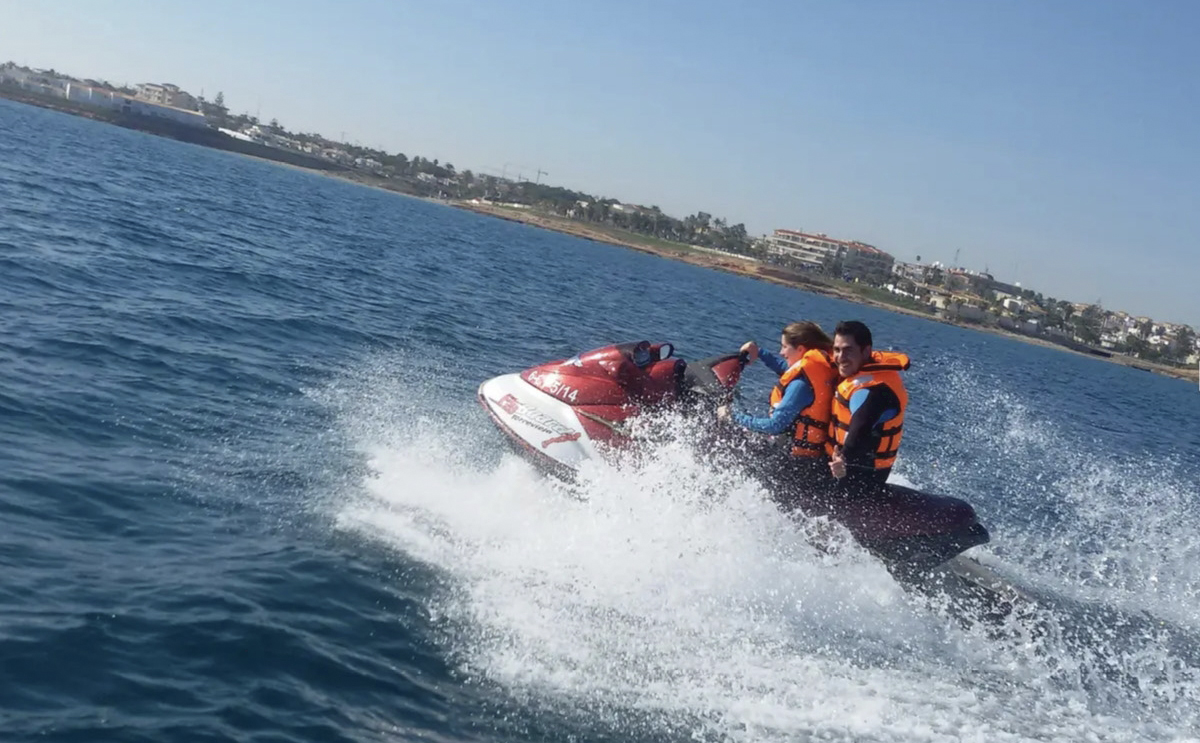 Jetski Hire, Puerto Deportivo de Cabo Roig
Cabo Roig's marina is one of the most sought-after locations for a private mooring in the entire Iberian peninsula, but it's the sporting facilities that draw the crowds year-round.
The marina is one of just a handful of locations on the entire Costa Blanca where eager thrill-seekers can hire a jetski without having to present a hefty deposit alongside a "Moto Nautica A" – the Spanish equivalent of the RYA's personal watercraft proficiency course.
The venue offers the latest Sea-Doo performance PWCs, and hire costs start from €80 for half an hour. That might sound a little pricey, but the cost includes a fully trained instructor who will follow on a separate jet ski to ensure your safety through the challenging inshore waters of the Mediterranean Sea.
Playa Flamenca Street Market, Playa Flamenca
Playa Flamenca's street market is steeped in tradition and offers a chance to experience some authentic Spanish culture in a modern urban environment. It's certainly one of our favourite things to do on the Orihuela Costa.
Every Saturday morning you'll find locals of all nationalities buying regional fresh produce to create meals at home for the forthcoming week, often stopping for a bite to eat and a drink at one of the market´s restaurants or café-bars.
The street market sells everything you might need from fresh fruit and vegetables, textiles and clothing, a rich variety of homewares, and Spanish made goods that make perfect gifts to take back home for family or friends.
Go-Karts Orihuela Costa, Playa Flamenca
But if markets don't match your desire for a faster pace of Spanish life, Go-Karts Orihuela Costa has something to supercharge your holiday.
The venue offers a multitude of activities, two different racing tracks, and racing karts and quad-bikes in a variety of riding styles and levels of performance. Children aged 10 years or over are welcome to participate in races held on the championship track.
The championship racing track is a twisting network of asphalt with high-speed straights and tightly spiralled hairpins with a capacity for up to 26 drivers at any one time, complemented by a digital scoreboard and viewing bridge.
Orihuela Costa Things to Do, Playa de Cabo Roig
You can easily while away a summer´s day on Cabo Roig's stunning beach. One of the finest you'll find in any Mediterranean resort, Playa de La Caleta is an unspoiled strip of white sand 287m long and 43m deep to the shoreline.
Accessed by a walkway that meanders down the cliff wall and surrounded by Mediterranean trees that nod to the historic 16th-century watchtower that's overseen the cove for more than 400 years.
The beach provides a small bar and lifeguard services during high season, and a coastal path runs around the coastline connecting with Cala Capitán and La Zenia beaches to the north.
Bicycle Hire on the Beaches, La Zenia
It's actually possible to cycle for countless miles along the Mediterranean coastline, and the local area has one of the longest off-road dedicated cycle lanes in Spain.
It's one of our favourite things to do on the Orihuela Costa, and it's cheap, safe and family-friendly too. It is a great way to explore the coastal area and stop by hidden beaches and coves that you might not have otherwise found.
No bike? No problem. I Love Bike in La Zenia specialises in hiring out bikes for all sizes and ages. Hire a bike for a day or a week with budget prices and a choice of different styles of bicycle. For the adventurous, they even offer tandem bikes too!
Minigolf La Mosca, Playa Flamenca
Even if you're a regular visitor to the Orihuela Costa, this family-friendly local attraction is easily overlooked and you've probably driven past it a dozen times before. But high above the La Mosca commercial centre is a winding mini-golf course that overlooks the Mediterranean Sea.
Replete with water features, bunkers, and challenging fairways, the mini-golf course packs many of the things you might expect to find on any of the golf courses in our local area – just smaller and possibly moderately less taxing.
The venue offers a full-bar serving refreshing drinks and ice creams, covered areas for shade, and snooker table hire. Open daily throughout the summer from 11:00, you can find more information about Minigolf La Mosca on their Facebook page.
Looking for holiday ideas and travel inspiration? Find out more about our favourite recommended things to do on the Orihuela Costa or join the La Zenia community Facebook group and find out what's going on in the local area.
Photo credit: LaZenia.com