BOAT RENTAL AND LEISURE CRAFT HIRE is no longer the exclusive purview of the rich and famous, and local companies here in the South Costa Blanca offer affordable boat rental options for aspiring captains without a boat licence.
Renting a boat without a licence is one of the best alternatives to spending a day at the beach, especially when the weather is warm. The inexpensive family-friendly fun is ideal for small groups to enjoy an afternoon on the Mediterranean Sea.
And it provides a different and enlightening vantage point to enjoy the coast and the beaches, allowing those onboard to find their sea legs and discover new experiences, hidden coves, and enjoy the crystal clear waters.
Take a picnic complete with liquid refreshments and dine onboard for an unforgettable holiday experience, soak up the sunshine on your private sundeck, or take selfies aboard your own personal "superyacht" with the ultra-Instagrammable coastline behind you.
Small boats with less powerful engines can be hired legally without a boat licence in Spain, but less power doesn't mean less fun, and these compact cruisers are sure to brighten up any holiday for you, your friends, and your family too – they seat up to six people.
Boat Rental Cabo Roig, Cabo Roig
A family-owned boat hire company run by David and Kelly, Boat Rental Cabo Roig operate locally from Cabo Roig Marina offering a fleet of small and medium-sized leisure craft including two vessels available for hire without a licence.
You can become the captain of your own boat for an hour, an afternoon, or a whole day, without any sea-faring experience or a navigation licence. Full instructions and a safety demonstration are provided on arrival.
Prices start at €60 per hour or €100 for two hours and include fuel, mandatory safety equipment, and insurance. Snorkelling equipment is available free of charge upon request, and it's one of the best value ways of exploring the Orihuela Costa coastline.
Boat Rental Cabo Roig offers the Mareti 450, a compact 4.5m leisure craft with the capacity to whisk up to 5 people across the water in comfort, powered by a spirited 15 hp Suzuki outboard engine. The boat is renowned for its extraordinary stability and safety at sea.
The vessel is fully equipped for a successful sea adventure, including GPS and depth gauge, Bluetooth speakers, a sundeck, awning, swim-ladder, and an anchor so that guests can swim and snorkel.
The company offers leisure craft up to 7.7 metres, and excursions to Tabarca, Cabo de Palos and the Mar Menor. Take a look at their Facebook page for the most up-to-date information or visit their website for details of the boats available.
Barcos Torrevieja, Torrevieja
One of the cheapest ways to enjoy a day on the open water, Barcos Torrevieja offer the Italian-made Cantiere Nautico Marinello 500 sports boat with prices from €140 for a two-hour rental.
The 5-metre leisure craft carries a maximum of 6 people, features a 15 hp engine for spritely performance, and can be hired without a boat licence. Prices include full insurance but exclude the cost of fuel. Take a look at their website for more information.
OcioMar Boat Rental, Torrevieja
OcioMar in Torrevieja offers two boat rental options with prices from €60 per hour including fuel. Their smaller Remus 450 seats up to 4 people, and a larger craft carries a maximum of 6 seated occupants.
Both boats are available for rent without a licence and come equipped with Bluetooth, a radio, and 15 hp engine. A longer rental time offers significant savings with a 4-hour rental costing €42.50 per hour. Visit their website here.
At Sea Boat Rental, Torrevieja
The widest choice of boats for hire without a licence with 4 boats available and prices starting at €120 for a minimum rental period of 2 hours. Sub-five metre boats with 15 hp engines, fuel is not included in the hire price.
Boats have a capacity of 5 or 6 people, and each Quicksilver craft comes complete with a stereo system with Bluetooth connection, bimini, a table, cooler, sundeck, swim platform, swim ladder, and comprehensive safety equipment. Take a look at their website for more information.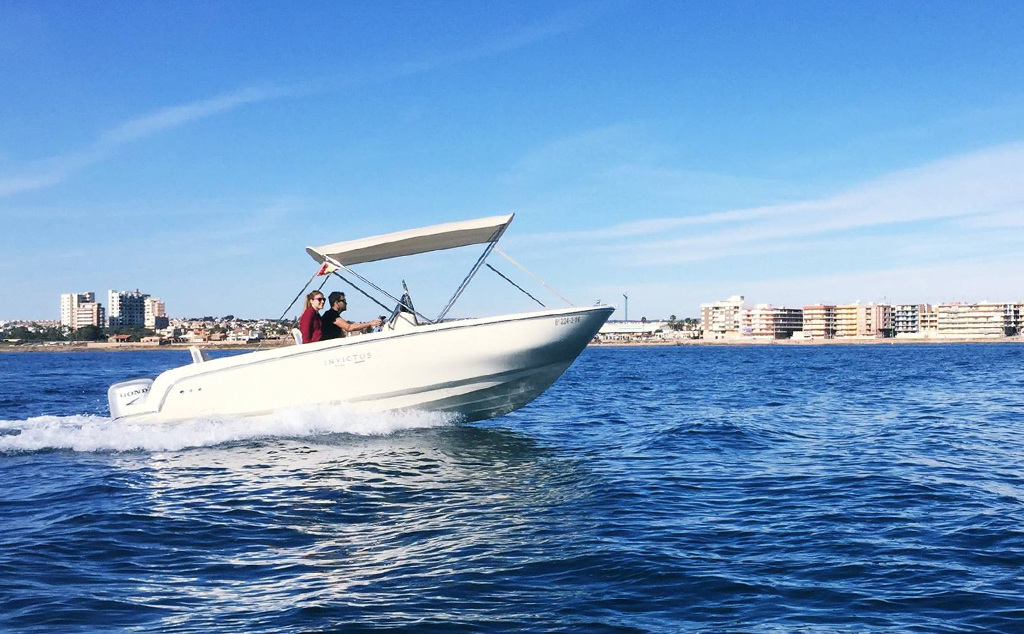 Rumbo Torrevieja, Torrevieja
Kalima and Compass-class leisure boats for hire without a licence and prices from €60 per hour. Boats seat a maximum of five passengers, including the pilot, and discounts are available for longer periods of hire, (fuel not included).
The boat hire company operates a complete fleet of leisure vessels including skippered boats such as the Leandro motor cruiser and the Prestige 34 sports cruiser that accommodates up to 9 people, with prices starting at €490 for an afternoon. Visit the Rumbo Torrevieja boat hire website.
Please ensure you use your leisure craft responsibly and safely, and return it to the boat hire company in the same condition as you received it. In particular:-
Listen to the safety instructions provided by your boat hire company
Familiarise yourself with the emergency equipment onboard
Always wear the life-jackets provided while the boat is in motion (or as instructed)
Do not take the craft near any other vessel or people in the water
Stay away from marine mammals such as porpoises, whales or dolphins
Take your rubbish home with you, never deposit rubbish in the sea
Do not leave the permitted navigation area
Leisure boats are expensive pieces of equipment so expect to pay a returnable deposit when taking charge of the craft. Always ask for information about deposits, fuel charges, and rental conditions prior to booking your rental boat.
Looking for holiday ideas and travel inspiration? Find out more about our favourite recommended things to do on the Orihuela Costa or join the La Zenia community Facebook group and find out what's going on in the local area.
Photo credit: Boat Rental Cabo Roig / LaZenia.com