AGUAMARINA BEACH The Orihuela Costa boasts 16 km of coastline with 11 spectacular coves and beaches offering fine golden sands.
A total of 58 awards distinguish Orihuela's beaches, and each beach is Blue Flag accredited, certified to ISO standards, and carries Qualitur distinctions for excellence.
The beaches are the destination of choice for hundreds of thousands of international and local visitors year after year, and they remain popular attractions year after year despite recent global events.
But with Cabo Roig's popular La Caleta beach to the north, and Campoamor's majestic Playa de la Glea to the south, one beach very often remains overlooked.
And that's a shame, as Aguamarina beach is naturally stunning and just as well-appointed as any of her neighbours. It's also our personal favourite.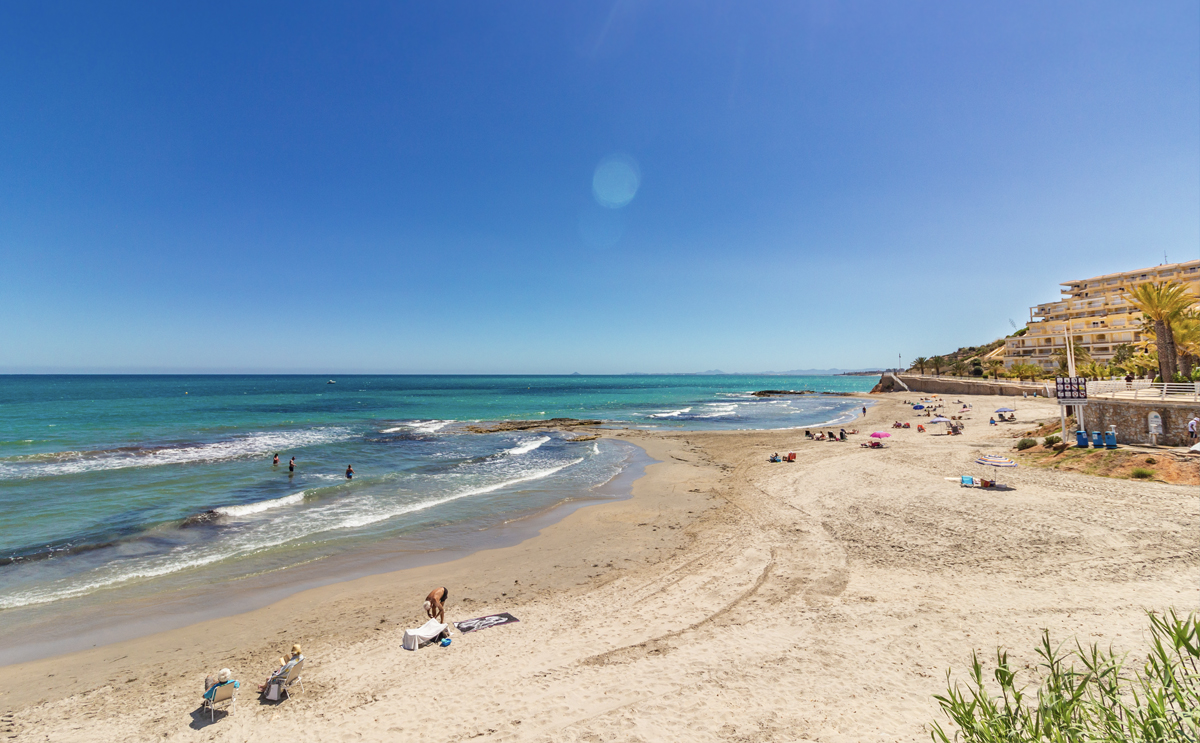 Aguamarina is a shallow crescent of fine sand measuring 293 m at the waterline, with a maximum width of 38 m.
The beach offers plenty of space for families and sun-seekers, often when other local beaches are crowded during the summer.
The pristine safe waters are ideal for swimming, and during high season the Town Hall provides the additional surety of a lifeguard service.
During the summer a Spanish Chiringuito (beach bar) offers a variety of refreshments and casual dining options with some of the best open Mediterranean Sea views around.
Aguamarina Beach, one of South Costa Blanca's best beaches
Nearby rock pools and a rock and fossil beach to the north end of Aguamarina beach provide plenty of opportunities for children to explore the Mediterranean Sea flora and fauna.
The beach is accessible for all, and a pretty promenade with seating runs the length of the beach from north to south.
An elevated walkway attaches to the vibrant cliff walls and connects Aguamarina to Campoamor beach to the south. Part of the Mediterranean coastal path that leads from Mil Palmeras to Torrevieja in the north, the northerly path leads to neighbouring Cabo Roig.
Aguamarina beach is composed entirely of fine white to golden sands, with exposed natural rock formations along part of the shoreline. It is generally regarded as one of Orihuela Costa's best beaches, and among the most beautiful beaches in the entire South Costa Blanca.
It's an ideal beach for families looking for something to entertain children, or for beach-goers looking for a sunny beachfront destination that's a little quieter in high season.
You'll find Aguamarina beach northward of Campoamor's Playa de la Glea beach, and south of Cabo Roig's La Caleta beach. Click here for a Google Map with directions from your location.
Looking for holiday ideas and travel inspiration? Find out more about our favourite recommended things to do on the Orihuela Costa or join the La Zenia community Facebook group and find out what's going on in the local area.
Photo credit: LaZenia.com