RESTAURANTE PUNTA PRIMA on the South Costa Blanca has been delighting locals and tourists for more than 25 years with its exquisite take on traditional Spanish and western Mediterranean cuisine.
It's a popular venue due to its stunning large terrace that offers commanding views of Punta Prima's main beach and the Mediterranean Sea.
We paid the restaurant a visit earlier this week one afternoon for a late lunch and were able to easily get seated, although booking would be recommended during the summer season.
The multilingual waiting staff were friendly and helpful, and we were escorted to an outside table adjacent to the modern dining room.
The restaurant has a choice of seating options, with a contemporary formal indoor dining space with floor to ceiling glass walls, and an extensive rear terrace which is divided into two areas.
Alfresco dining with amazing Mediterranean views
One area is available for a more casual dining experience, offering tapas and light snacks, while the other terraced area is dressed for those seeking the full Spanish restaurant experience. Whatever your preference, each location offers fabulous views while eating.
We found the premises immaculately clean, and the staff were extremely knowledgeable about the menu and understood the importance of allergens (the menu is marked with complete allergen information).
As you might expect, the Spanish style menu offers the usual selection of speciality fresh seafood and prime cuts of steak, an exceptional selection of authentic Paella and rice dishes, with classic Spanish dishes adding to the flavour of the menu.
Restaurante Punta Prima has an appealing selection of starters with prices starting at €6.50 for the Mojama with almonds (a type of filleted salt-cured tuna fish). Octopus served baked or Galician style (served with boiled potatoes or sweet Spanish paprika oil) costs €17.90.
For a complete Spanish dining experience consider a starter to share – the Iberian ham and tomato served with "Pan de Cristal", a Valencian speciality bread similar to ciabatta, costs €20.00 for two people.
An extensive classic Spanish menu with so much choice
The kitchen team's discernible love of Spanish cuisine means the menu offers something to suit everyone's taste, from meat lovers to vegetarians and vegans; and they are more than happy to cater for people with special dietary requirements.
We chose to eat from the à la carte cuisine menu, and both the snack menu and the full cuisine menu are available online via their website.
We sampled the Thai-style vegetable curry with tofu, accompanied by pure white basmati rice, and the bone-in New York Strip short loin steak served with fried potatoes, Padron peppers, and a decorative salad.
Each dish was wonderfully presented (the photos illustrate how the dishes arrived at the table), and service was expedited rapidly. The curry was priced at €14.80 and was one of four speciality vegetarian menu options.
The look may say it was thrown together by sheer accident, but the balanced, lasting aromatic flavours tell you it wasn't.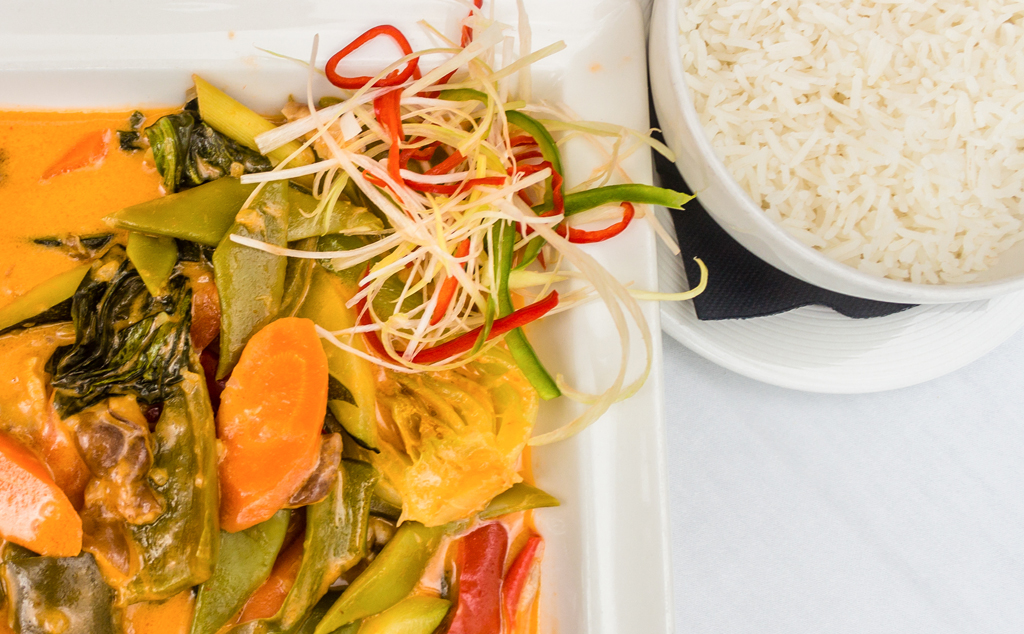 Traditional Spanish food at Restaurante Punta Prima
The New York Strip weighed in at €25.40, with a Sirloin steak option available for €22.00, and a Spanish inspired rack of lamb appearing on the grill menu for €18.90.
Grilled dishes can be ordered with your choice of four sauces for an additional €2.50, and extra side dishes (steamed rice, a green salad, French cut fries, or grilled Mediterranean vegetables) cost €4.90 per dish.
A meal can be rounded off with one of their inventive desserts which complement the traditional Spanish cuisine, and prices start from €5.90.
Tempting treats from the dessert menu include pineapple carpaccio, strawberry cheesecake, or a simple Mediterranean fruit salad – a refreshing palate cleanser to end your meal.
Although the prices are a little higher than some other restaurants in the area, Restaurante Punta Prima is definitely one to try. The food is outstanding, the staff extremely helpful and the views – A-MA-ZING!.
Fine dining at Punta Prima beach restaurant
This is the place to visit for that special occasion, milestone celebration, or just because you fancy treating yourself.
The restaurant offers a dedicated car park for guests and there's plenty of free on-street parking nearby. You can find the Restaurante Punta Prima's official website here, or click here to visit the restaurant's TripAdvisor listing.
A truly fabulous Spanish dining experience accompanied by those wonderful views. Try it once and it will become one of your most treasured holiday memories.
Looking for holiday ideas and travel inspiration? Find out more about our favourite recommended things to do on the Orihuela Costa or join the La Zenia community Facebook group and find out what's going on in the local area.
Photo credit: LaZenia.com