ALEJANDROS BAR-RESTAURANTE is an established and locally renowned fine dining and casual eatery in the heart of La Zenia on the Costa Blanca in Spain.
A firm favourite with locals and tourists alike, Alejandro's Bar-Restaurante enjoys a central location with a beautifully decorated dining room and a streetside terrace for outdoor eating year-round.
The dining room is spacious, with the tables nicely placed and not too close to each other. Tables can be arranged to suit larger parties and Alejandros caters for corporate and commercial events on a regular basis.
The friendly and approachable staff are multilingual and speak Spanish, English and several other languages, so those with limited language skills won't have any problems communicating what they wish to order.
Our visit took place on a Thursday evening, for an early dinner, and although the restaurant was quiet at that time, we understand that the restaurant can get very busy at peak times so booking is highly recommended – especially if you prefer an outside table on the sunny terrace where space is limited.
A comprehensive menu for all tastes in the heart of La Zenia
The restaurant menu is comprehensive with plenty of choices. The cuisine is traditionally Spanish and International in flavour, with something to suit all palates. The kitchen provides a host of options for vegetarian, vegan, and other dietary requirements.
A dedicated breakfast menu for early diners offers Spanish breakfast items like ham omelettes, fried eggs on toast, blueberry muffins, and a large traditional English breakfast for €5.90 widely reputed to be one of the best in the local area.
There is a fine selection of starters on the a la carte menu, with plenty of vegetarian options to choose from including a tomato bruschetta and baked camembert with cranberries. For meat-eaters, grilled mushrooms with bacon and garlic cream or the local favourite: grilled prawns in olive oil.
Soups and salads are well represented and provide a lighter alternative when the weather is warmer. And proving that salad doesn't have to be boring, Alejandros spices things up with high-quality International ingredients such as Greek feta cheese and Hungarian goulash.
The Mediterranean theme continues with authentic Italian favourites and a special menu dedicated to pasta. We have experienced their vegetable lasagne before and can report that it is truly divine, but carnivores will find plenty to tickle their tastebuds.
Spaghetti Bolognese, Sicilian Maccaroni with ham, and the Carbonara dishes look particularly tasty. The serving sizes are exceptionally generous.
Alejandros bar and restaurant, beautiful homemade pizzas
Of particular note is the extensive pizza menu, with no less than 13 different pizzas to choose from (including two wholly vegetarian choices).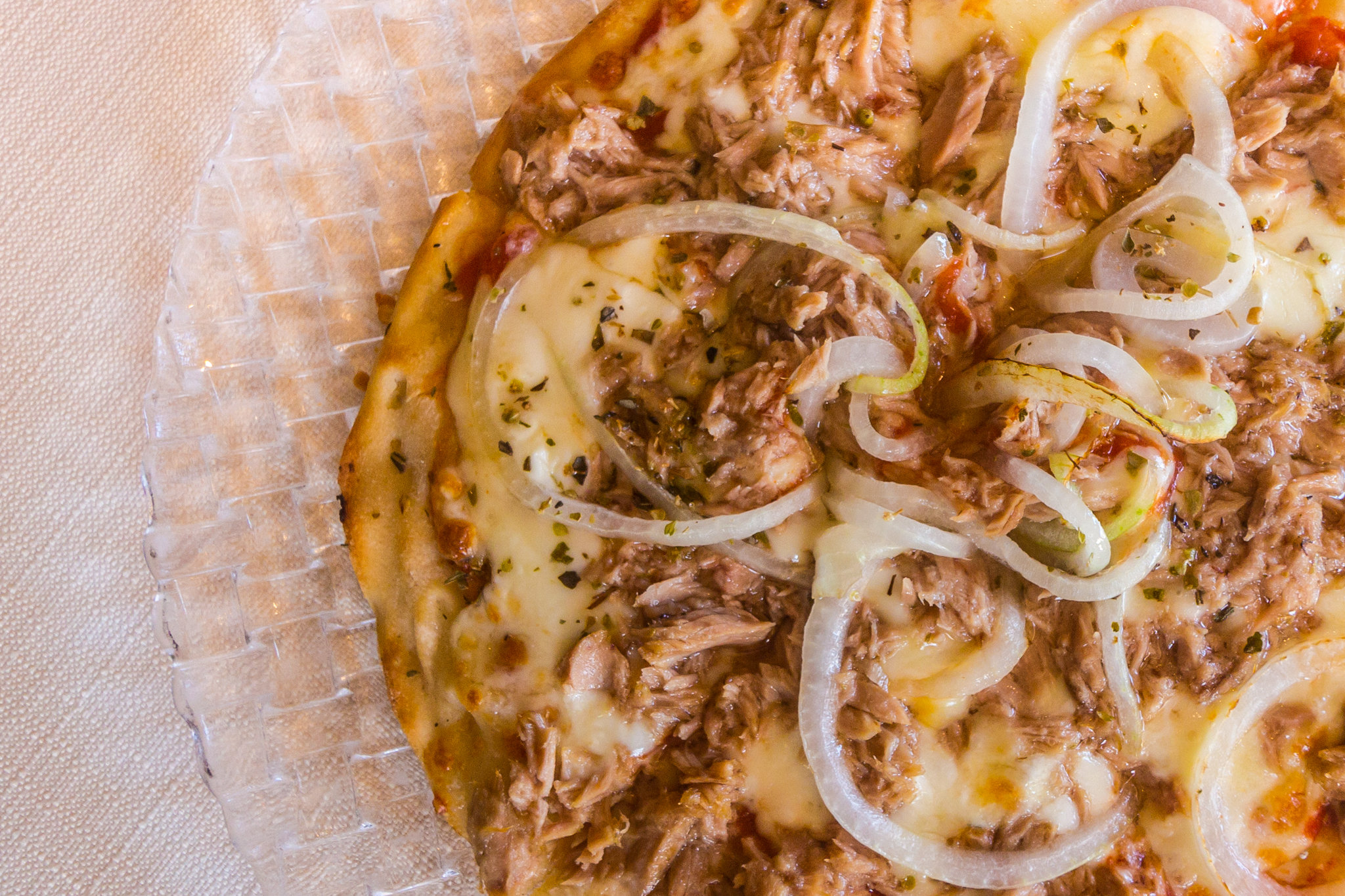 The pizzas are offered in two sizes, large or small, depending on your appetite. The prices are attractive, with a small Margarita pizza weighing in at just €4.50, a large salami pizza costs €10.50, and the most expensive pizza on the menu costs just €12.00. And it's big!
Highlights on the pizza menu include the Pizza Mafia with hot Spanish chillies (from €8.50), the Pizza Serrano (Serrano ham, rocket leaves and Parmesan) from €7.50, and even a Chicken Curry Pizza priced from €8.00.
The main dishes are similarly adventurous and offer a wide selection of high-quality dishes including chicken breast, pork steaks, lamb shoulder, sea bream, salmon, cod, and a variety of fillet and entrecôte steak dishes. Prices range from €14.90 to €24.90.
The snack menu completes the mouth-watering offerings, with an additional eight dining choices including a beef burger with chips and salad for just €6.00, curried German sausage and chips, and several sandwiches and baguettes.
The desserts offer the perfect way to round off the evening with homemade cheesecake for just €3.50, and a selection of artistically created ice cream sundaes.
Alejandro's-Bar Restaurante, a fine dining restaurant with great prices
Alejandro's restaurant menu is high quality, broad and inclusive, with a dedicated menu just for children. Catering for all tastes, with vegetarian options in each menu section, great value prices, and a beautifully appointed dining room in a prestigious local setting, we can highly recommend this fine La Zenia restaurant. Click here for a Google Map with location information.
Looking for holiday ideas and travel inspiration? Find out more about our favourite recommended things to do on the Orihuela Costa or join the La Zenia community Facebook group and find out what's going on in the local area.
Photo credit: LaZenia.com