WHEN IT COMES TO FOOD there's nothing more typically Spanish than steak. Spaniards love steak, with traditional culinary roots stemming from centuries of established food culture and close historical connections with Latin America.
Whether it's grass-fed Galician steak from Spain's northwesternmost region or prime cuts of Argentinian sirloin, Spain is a mecca for meat lovers with many claiming the country's restaurants serve the best steak in the world.
So we asked members of the La Zenia Community Facebook Group to give us their recommendations of the best steak restaurants in our locale, and we've compiled this guide to the best steakhouses in our part of the South Costa Blanca.
But don't think of this as ranking venues from worst to best, this is the "best of the best" speciality steak restaurants that the Orihuela Costa has to offer, based on personal recommendations from the people that live here or visit our area.
10 | Blakes Irish Steakhouse, Playa Flamenca
The new kid on the block, Blakes Irish Steakhouse first opened it's doors on the top floor of the popular Flamenca Beach Commercial Centre in Playa Flamenca in February earlier this year.
The restaurant boasts a large interior dining room and a spacious covered outside terrace that can be opened up to make the most of the sunshine year-round.
The menu balances quality with value, and the venue is proud to serve farm-fresh authentic steaks and meat sourced from their home country in Ireland.
An early supper menu offers a selection of popular dishes for a fixed low price (two course or three), and there's a roast dinner option every Sunday. The Rib Eye Steak special menu is worth a mention, with two prime Irish steaks served with all the trimmings, a choice of sauces, and a bottle of wine to share for just 34,95 €.
MENU > MAP > FACEBOOK > TRIPADVISOR
09 | Surfers Bar & Grill, Playa Flamenca Beach
With such close proximity to Playa Flamenca's beaches, Surfers Bar and Grill certainly offers one of the most idyllic places along the Orihuela Costa coastline to enjoy a fabulous meal.
The venue offers a relaxed and casual dining experience with a cosy dining room and an impressive outside terrace. Surfer's is a popular choice year-round with residents and visitors alike.
The menu is as laid-back as the ambience, with an all-day kitchen service that starts with a selection of breakfasts, sandwiches, paninis, and light bites.
Main courses focus on fresh salads, pasta dishes, prime beef burgers, and grilled fish and meats. The highlight of the menu is a 12 oz (340 g) rib-eye steak accompanied by a salad garnish, a creamy rich pepper sauce, and your choice of thick-cut chips or a healthier baked potato option.
MENU > MAP > FACEBOOK > TRIPADVISOR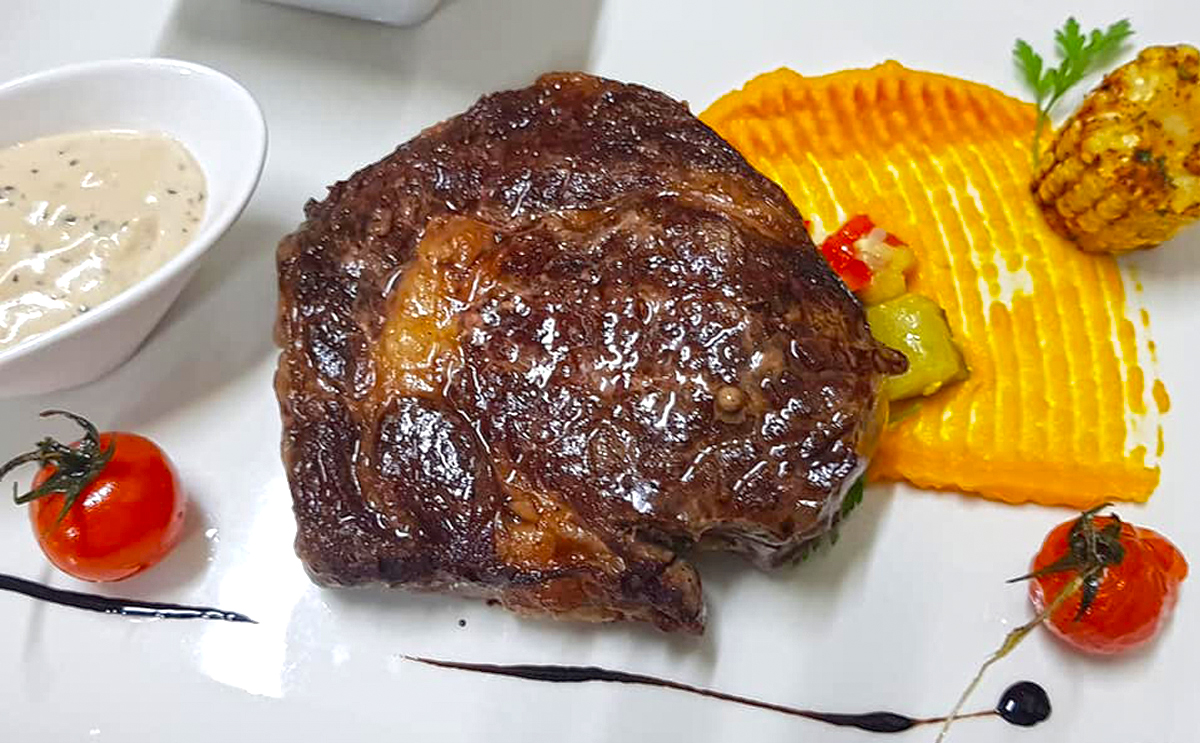 08 | Long Horn Flamenca Beach Restaurant, Playa Flamenca
It's easy to feel the North European influence on Long Horn's menu. Pork steak in a peppered Dijon mustard dressing and spicy chicken wings sit aside fragrant Cod Provençal and German Wiener Schnitzel – a type of schnitzel made of a thin, breaded, pan-fried veal cutlet.
But as the name rightly suggests, burgers and steaks remain the star of the show with past diners noting the exceptional presentation of steak dishes, a perfect cook and sear, and quality of the ingredients used.
The venue offers seating inside and out, with a spacious covered terrace that can be used throughout the seasons, and the restaurant is accredited with TripAdvisor's Travellers' Choice Award for consistently positive reviews.
You can find Long Horn Flamenca Beach Restaurant in neighbouring Playa Flamenca, located on the upper storey of the Flamenca Beach commercial centre.
MENU > MAP > FACEBOOK > TRIPADVISOR
07 | The Stone Grill Restaurant, Dehesa de Campoamor
Located in the La Fuente commercial centre, The Stone Grill occupies a premium location overlooking a central square and offers a surprisingly spacious dining room and covered outdoor seating suited to use year-round.
The menu is unapologetically meat-heavy (there's a rump steak option on the children's menu), with special dishes such as a slow-baked full rack of barbecue ribs or an Argentinian Angus steak burger.
The steak menu is comprehensive with prime cuts of South American fillet, sirloin, and rump steaks available in a variety of weights to suit your appetite, complimented by a veritable armada of side dishes and sauces to customise your plate.
Steaks are stone-served, and mixed grill options including pork tenderloin, New Zealand lamb, chicken, king prawns and salmon, round out the restaurant menu.
MENU > MAP > FACEBOOK > TRIPADVISOR
06 | The Hens Teeth, Villamartin Plaza
Sporting a coveted Tripadvisor Travellers' Choice Award, The Hens Teeth deserves the desirable accolade and enjoys an enviable local reputation as one of the finest dining venues in the South Costa Blanca.
The restaurant specialises in Spanish and Mediterranean cuisine, with influences taken from contemporary urban street food. The Hens Teeth isn't a steakhouse, in fact, the menu features just one option – a grilled rump steak. But that hasn't stopped the venue from garnering enough recommendations to warrant inclusion.
At first glance, the Spanish theme is abundantly clear, with Iberian favourites such as cod croquettes and grilled prawns headlining the tapas menu. Dive deeper and you'll find meat, fish and seafood mains accompanied by a choice of hand-cut dirty fries.
The Hens Teeth offer a bespoke and entirely separate vegan menu, gluten-free options, a fixed-price menú del día, and a specials menu that changes weekly.
MENU > MAP > FACEBOOK > TRIPADVISOR
05 | Che Argentinian Grill House, Villamartin Plaza
It seems that when it comes to fine quality meats, all roads lead to Villamartin Plaza, and Che Argentinian Grill House is another proven firm favourite with local carnivores.
The venue offers a three-course à la carte menu with a selection of speciality meat dishes including steaks cooked to order, skewered meats, sausages, and a variety of grilled plates.
There's a children's menu, an extensive wine menu, and a separate gluten-free menu that´s as close to the original as possible, substituting ingredients and adapting dishes to fit the dietary requirements of people with Coeliac Disease.
Diners praise the restaurant for the quality of the food, the outstanding location with tables in the central square, the friendly and attentive service, and the value offered by the set menus.
MENU > MAP > FACEBOOK > TRIPADVISOR
04 | Rustica, Playa Flamenca
Rustica might have only just missed out on a top-three podium position in this list of most recommended local steak restaurants, but don't underestimate the quality of the food on offer here – this restaurant in Playa Flamenca is a hardcore steakhouse.
Take a look at that photo at the very top of this page – that's Rustica's succulent and exquisitely presented Chateaubriand tenderloin. Galician rib eye is available as an option. Be under no misapprehension, when it comes to steak these guys mean business.
The menu is sharply chiselled, with starters and main courses barely covering two sides of an A4 sheet each. But what might be lacking in choice is more than compensated for by the exclusive use of world-class Mediterranean ingredients.
This is fine-dining at its best, with the kitchen team delivering Michelin Star quality food that you would usually expect to find in an upscale Parisian boutique brasserie. Their flawless reviews on Tripadvisor speak volumes, with the vast majority of diners awarding them the highest possible five-star accolade.
MENU > MAP > FACEBOOK > TRIPADVISOR
03 | Steakstones Hot Rock Grill, Villamartin Plaza
The number one restaurant according to Tripadvisor, Steakstones in Villamartin specialises in premium cuts of the finest quality meats cooked to order and served to the table atop a hot lava stone.
You'll find the usual menu selection of rump, fillet, and sirloin steak, amongst some exotic menu choices such as kangaroo, crocodile, venison, and ostrich steaks – all beautifully presented tableside with a selection of side dishes and dipping sauces.
The extensive menu offers plenty of choices but the clear focus lies around dishes from the grill, including restaurants staples such as chicken and pork alongside Mediterranean seafood offerings such as tuna and salmon.
The restaurant occupies a prime location with an elegant dining room and a terrace located inside Villamartin Plaza's central square on the ground floor, offering a choice of seating all year-round.
MENU > MAP > FACEBOOK > TRIPADVISOR
02 | El Gallego, Pilar de la Horadada
Technically not a part of Orihuela Costa, but good food knows no boundaries, and this magnificent Spanish steakhouse tucked away in neighbouring Pilar de la Horadada scored too many votes to ignore.
From the "walk-through" corridor of wine to the butcher's counter packed a half-meter deep with the finest cuts of Spanish meat, there can be no doubt that El Gallego is at the raw edge of pure steak enjoyment.
Simply pairing fine Spanish wine with high-quality ingredients is the name of the game, and fish and meat lovers will appreciate the no-frills honest food served in a well-appointed dining room.
Portion sizes are best described as generous, and the venue is commended by diners for its authentic Spanish vibe, consistent quality food, and an award-worthy entrecote steak that never fails to impress.
MENU > MAP > FACEBOOK > TRIPADVISOR
01 | Fairways Restaurant and Chill Out Lounge, Villamartin Plaza
With more personal recommendations than any other steakhouse, Fairways Restaurant in Villamartin Plaza is the venue of choice for local diners looking for the very best in carnivorous fulfilment.
Boasting a spectacular terrace nestled amongst the palm trees and overlooking the beautiful Mediterranean square, Fairways offers an idyllic location to enjoy some of the most exquisite culinary treats you'll find in our part of Spain.
Highlights of the menu include market-fresh seafood and fish dishes such as bream, wild salmon, and lobster; plus a comprehensive selection of pasta and meat.
But when it comes to the best steak restaurants on the Orihuela Costa, the perfect sear, cook, and high-quality taste of the sirloin, rib eye, and fillet steaks at Fairways Restaurant simply can't be beaten.
MENU > MAP > FACEBOOK > TRIPADVISOR
The best steak restaurants on the Orihuela Costa
How do our Community Group members' recommendations compare with your experiences? Is there a venue that warrants inclusion on our list of best steak restaurants in Orihuela Costa? Let us know in the comments below.
Looking for holiday ideas and travel inspiration? Find out more about our favourite recommended things to do on the Orihuela Costa or join the La Zenia community Facebook group and find out what's going on in the local area.
Photo credit: Provided by local restaurants / LaZenia.com