RESTAURANTE VELA BEACH first opened its doors more than a decade ago in 2007. Since then the eatery has garnered a reputation for fine food, with a Mediterranean brasserie-style menu, and one of the most spectacular beachfront locations you'll find.
Situated adjacent to the beachfront promenade in La Mata, slightly north of Torrevieja, there's no doubting that this is a privileged location, with views over the pure golden sands of the elegant La Mata Beach and the vibrant vista provided by the Mediterranean Sea. The ultimate dining location? Tick!
Restaurante Vela Beach is ranked highly on TripAdvisor and that's no mean feat. The cosmopolitan city of Torrevieja is awash with first-class dining venues and competition for patrons is robust, so ranking anywhere near the top of TripAdvisor´s recommendations is challenging.
An unbeatable beachfront location: La Mata Beach in Torrevieja
The restaurant ranks within the top ten per cent of local eateries, a highly respectable achievement considering the 577 listings currently active on the world's most popular restaurant reviews site, and the venue has been accredited with the coveted Certificate of Excellence for three straight years.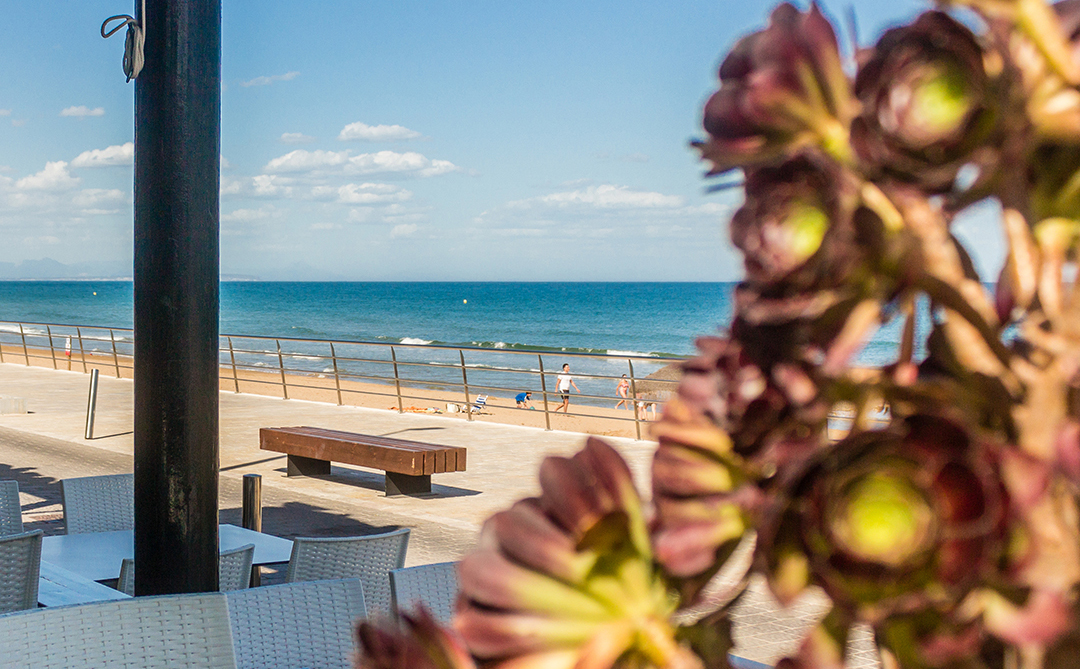 And we can understand why. If you aren't immediately blown away by the stunning location and uninterrupted views of the sea, and what must be the most pristine and well-kept beaches in the local area, the beautifully appointed dining room and outside terrace should do it for you.
It seems almost criminal to dine "indoors", but for cooler winter evenings and times when inclement weather prevents a truly al-fresco experience, the owners have done an admirable job of creating an upmarket dining space that´s inviting and chic, yet unpretentious. It's all rather a lot to live up to.
We dined at the restaurant just last week, choosing (as we always do) to attend the venue for a late afternoon lunch. We ate outside on the large covered terrace that overlooks the promenade, the beach, and the azure sea beyond.
Upon arrival, we found a friendly welcome and a relaxed almost effortlessly casual atmosphere that belies the formal qualities of the dining room behind. It's a good start.
Restaurante Vela Beach: an undoubtedly Mediterranean menu
And things just get better once you get into the menu. Restaurante Vela Beach describes its cuisine as international food with a strong Mediterranean influence, and this is evident as soon as you begin to peruse the menu.
The menu is inventive, with some dishes you just won't find anywhere else in the local area. Instinctively Western Mediterranean with Spanish flare throughout, the menu exudes a passion for seafood, perhaps unsurprising given the location.
Come prepared to pay for quality and you won't leave disappointed. That's not to say that the menu is expensive, and the dishes we ordered offered outstanding value for money considering the quality of the delivered plates.
In fact, if you're on a budget the menu offers plenty of good value dishes to choose from, but there's no denying this is a mid-priced menu. There are cheaper dining choices available in Torrevieja, but if you wish to enjoy the premium location, the great food, and a first-class dining experience you should expect to pay a little more for it.
A starter can cost you as little as €8.90 for homemade croquettes. You don't have to pay more, but a technically elaborate dish such as the flagship starter with pure Iberian ham, Manchego Reserve, parmesan and almonds weighs in at €21.90. First class ingredients, each and every one.
Of course, there's plenty of choice in between with a total of 15 starters on offer, including a fried baby squid tray, marinated salmon and smoked cod carpaccio, and scrambled eggs with prawns, whitebait, wild asparagus, and seasonal mushrooms.
Restaurante Vela Beach also offers a small selection of soups which make ideal light bites or starter alternatives, and prices start from €7.90 for a traditional Andalusian Gazpacho.
Equally, a selection of salads offers a lighter dining choice with a range of leafy dishes from a simple César or Caprese, to an exotic summer salad featuring goose foie gras, prawns, avocado and lobster. A straightforward Spanish tuna salad costs €10.90.
Spain or Italy, a menu that proudly wears its gastronomic colours
The menu begins to show its close fusion of international and Spanish cuisine as you reach the main course options.
Paellas are clearly a house speciality with some innovative and original dishes including luxury ingredients such as Norwegian lobster and red spot king prawns. In total, the venue offers 6 different rice dishes with prices from €13.90 but please remember, in Spain paella is a dish shared between a minimum of two diners.
The proudly Valencian rice dishes sit alongside pasta offerings, and in true Italian style, you get the opportunity to choose your pasta dish and then choose the sauce as an accompaniment.
Spaghetti doesn't necessarily have to come with bolognese sauce and there are five base dishes with a choice of six authentic sauces. That's a total of thirty potential menu variations, with vegetarian and gluten-free dining options too.
Pizzas add to the central Mediterranean theme, with ten speciality pizzas priced from a very reasonable €9.90. We sampled the spicy Diavola (priced at €13.90 on the menu), and as you can see from the photos the pizza arrived beautifully presented. Sadly, no image can convey the crispness of that tasty wood-fired base.
There is surely a pizza on the menu to suit everyone, from the firm favourites such as the uncomplicated Four Cheese pizza or the much loved pineapple-topped Hawaiin to the more "out there" Bombay – an Italian and Indian fusion of mozzarella, tomato, and curry infused chicken. Tempting.
The main course selection, Mediterranean seafood and Spanish meats
Seafood and fish choices are comprehensive, with prices starting at €16.90. Grilled salmon is the cheapest fish option, with hake, sea bass, monkfish, clams, turbot, prawns, and lobster all making the cut onto the à la carte menu.
Restaurante Vela Beach specialise in dishes to share (platters have a menu section all to themselves), and a grilled seafood platter which includes half a lobster, four red spot king prawns, two crayfish and four clams weighs in at €49.90. Perfect for sharing or for those with a hearty appetite.
The menu features nine different meat dishes including lamb chops and Angus entrecôte steak. The cheapest choice is the chicken curry with rice at €14.90 and we sampled the Spanish tenderloin steak for €23.90. Cooked to absolute perfection, and that´s not always as easy as it sounds.
Any meal can be rounded out with any one of a selection of nine tempting desserts. The Sorbet of Cava offers a refreshing alternative to sweet treats and at just €5.90 it's the cheapest option on the desserts menu.
Chocoholics will no doubt be seduced by the chocolate and almond cake accompanied by lashings of hot chocolate made with 70% cocoa solids, or some diners might be tempted by a local Spanish desert such as the speciality wood-fired oven-baked cake named after the city itself – the traditional Cake of Torrevieja. A snip at €7.90.
Restaurante Vela Beach offers a fully stocked bar with a full selection of drinks from soft beverages, beers, regional wines, and of course a full choice of tea and coffee to finish your meal.
It's worth highlighting the wine menu, which boasts no less than fifty wines with prices from just €3.00 per glass (including Spanish Codorniu Cava), to €310.00 for a single bottle of Vega Sicilia Único, one of Spain's most prestigious aged red wines that takes a full decade to make it from barrel to bottle. By contrast, Dom Pérignon Vintage Champagne is available from the cellar for a "mere" €210.00.
The venue offers a separate children's menu, and a fixed price "menú degustación" (a tasting menu), that offers a three-course meal with a choice of starter, main course, and dessert for €29.90 per person. A minimum cover of two people applies, and the fixed price menu does not include a drink or beverage.
Restaurante Vela Beach, one of the best restaurants in Torrevieja
The multilingual staff were friendly and professional. We were seated quickly and they were able to answer any questions we had about the menu, including expressing a good level of knowledge regarding allergens. Advanced booking is highly recommended for busy times and during high season, particularly if you have a preference for outside seating.
The restaurant is to be commended for the high quality of its food. Clearly produced from thoughtfully selected premium ingredients, each dish is conspicuously the result of a highly skilled kitchen team and delivered with passion, care, and an eye for detail in both composition and presentation.
The inclusive menu is pleasantly decadent and vibrant without being unnecessarily fussy, and a faultless service complemented by breathtaking panoramic Mediterranean Sea views from the spacious terrace can only serve to compound our recommendation.
Restaurante Vela Beach should be added to your list of restaurants to experience whether you're planning an evening out, a luxury lunchtime treat, or planning your next family holiday on the Costa Blanca. Highly recommended.
This restaurant is open daily serving lunch and dinner. For more information about this venue visit the official Restaurante Vela Beach website or find the restaurant with this handy Google Map.
Looking for holiday ideas and travel inspiration? Find out more about our favourite recommended things to do on the Orihuela Costa or join the La Zenia community Facebook group and find out what's going on in the local area.
Photo credit: LaZenia.com