CHANGES TO PUBLIC SAFETY measures come into force next week, with a moderate relaxation of restrictions announced by regional authorities that will remain in effect until Sunday 9th May 2021.
For two weeks commencing this coming Monday 26th April, the new rules allow bars, restaurants, and retail outlets to open later into the evening.
Bars and restaurants, currently forced to close their doors at 6:00 pm, will be permitted to serve customers until 10:00 pm, with 100% of the outside terrace space and 30% of the inside space available. Shops will also be allowed to open until 10:00 pm.
The permitted capacity of cultural activities such as theatres or museums will increase from 50% to 75%, while ceremonies such as weddings may proceed with a maximum capacity of 50%.
Other restrictions remain in force including limits on the number of people who may meet together. Only 6 people may meet in any public space (including bars and restaurants), and meetings at home, either in gardens or any other private space are limited to a total of 2 family groups.
The nighttime curfew remains in effect from 10:00 pm each day, and the land borders of the Valencian Community will remain effectively closed.
Positive signs of summer for residents and visitors to the Costa Blanca
However, on Wednesday, local news outlet "Informacion" reported that Ximo Puig, the President of the Valencian Community, suggested that the land borders of the Community should be opened once the national State of Alarm expires on Sunday 9th May 2021.
Just yesterday, the same publication reported that the Valencian Regional Secretary for Tourism, Francesc Colomer, had spoken with representatives of the United Kingdom about creating a travel corridor between UK destinations and the Costa Blanca.
Alicante Airport has registered a noticeable increase in daily flight arrivals and passenger traffic – particularly since the beginning of April.
Just today, the airport will welcome a total of 29 flights from The Netherlands, Belgium, Denmark, Sweden, Norway, Switzerland, France, Germany, Ireland, and the United Kingdom, in addition to domestic services from Bilbao, Ibiza, Mallorca, Tenerife, Barcelona, and the Spanish capital city of Madrid.
The latest data from AENA reports that the airport catered to the needs of almost 62,000 passengers in March, bolstered in part by a promotional campaign that brought more than 30,000 tourist arrivals to Spain from northern Europe over the Easter period.
That´s still a world away from pre-pandemic arrival numbers. Alicante-Elche airport handled 996,439 passenger movements during March 2019 and passenger traffic remains 94% lower than usual for this time of year.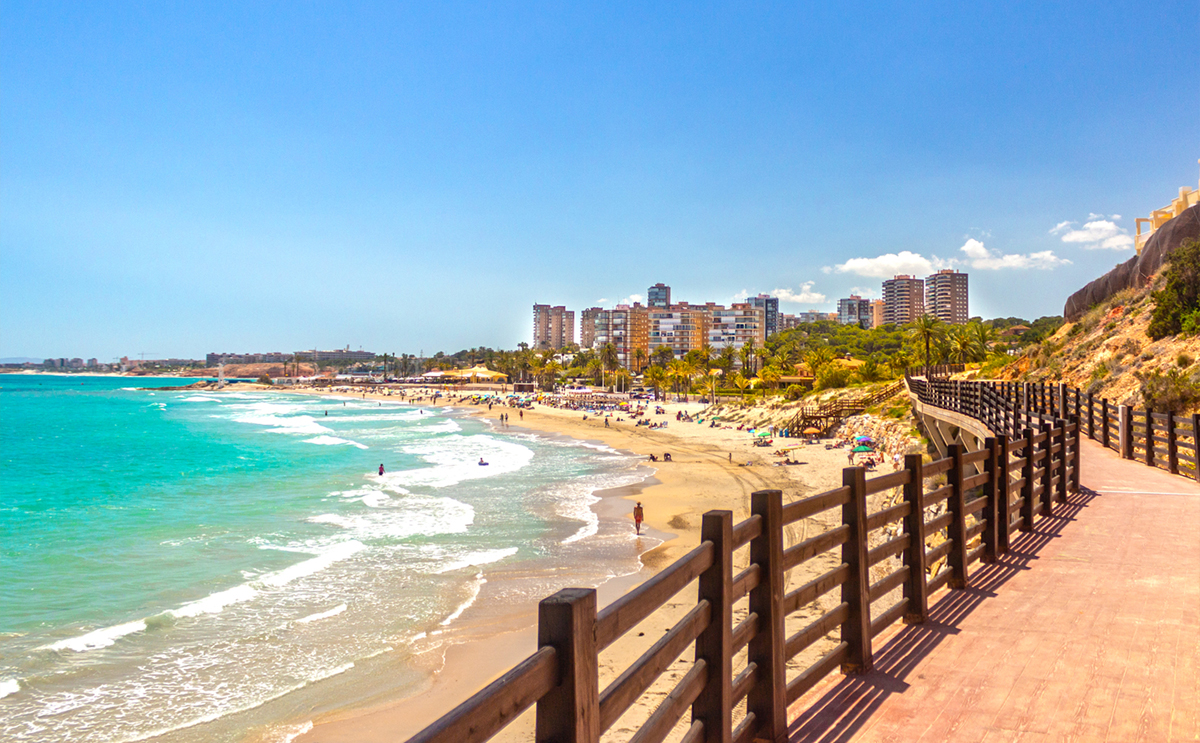 No spike in COVID infections in the region after the Easter holidays
Delivering his statement yesterday, Ximo Puig reflected on the low cumulative incidence of COVID infection (CCI) within the Valencian Community.
"It is six times lower than the Spanish national average rate of infection, and we are the only community in the country at a low level of assessed risk," said the President, who added that "there must be no total relaxation, the virus is still with us".
According to the latest government data, the 14-day CCI rate in the Valencian Community stands at 40.1 cases per 100,000 compared with a national average CCI of 235.5. The 14-day incidence in Orihuela is 37.4 and Torrevieja´s CCI is 34.8.
Spain´s vaccination campaign has gathered pace over recent weeks and medical teams have administered 14.2 million vaccinations, with 21.9% of the population receiving at least one dose and 3.8 million people vaccinated with both required doses.
The majority of inoculations have taken place using the Pfizer-BioNTech Comirnaty mRNA-based COVID-19 vaccine, with additional vaccines supplied by AstraZeneca, Moderna, and Janssen.
Looking for holiday ideas and travel inspiration? Find out more about our favourite recommended things to do on the Orihuela Costa or join the La Zenia community Facebook group and find out what's going on in the local area.
Photo credit: LaZenia.com
The Latest Features: Freshly Posted
---
[pt_view id="48c0efai2c"]