THE SUNRISE RESTAURANT is a modern American-style eatery in Playa Flamenca, just a few minutes from La Zenia.
It's a popular venue due to its contemporary bistro-style menu and the stunning rooftop terrace offering commanding views over the Mediterranean Sea and the rugged Orihuela Costa coastline. Surely, one of the finest views along this part of the coast at any time of year.
We paid the Sunrise Restaurant a visit earlier this week for a late lunch and were able to easily get seated, although booking would be recommended for dinner plans during the current season.
The staff were friendly and helpful, and we were escorted to an outside table adjacent to the covered al-fresco dining room.
The restaurant has a choice of seating options, with a formal "indoor" dining room, an al-fresco dining room with retractable sliding sides and retractable awning; and an extensive rooftop terrace offering a totally al-fresco dining experience with tables along the outer edge – each one offering fabulous views while eating.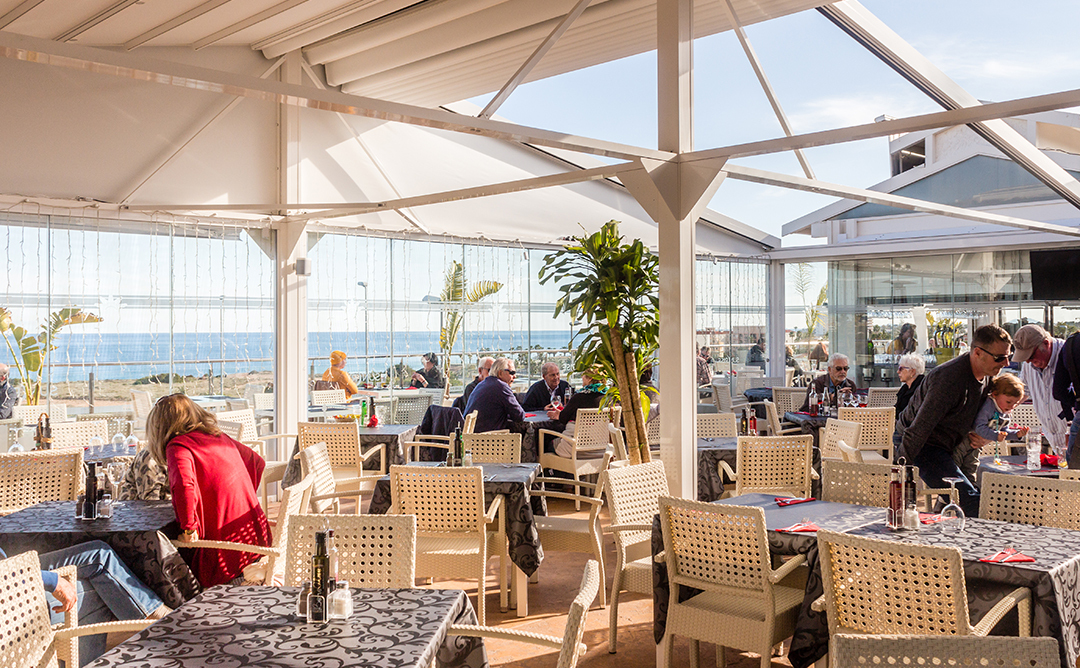 We found the premises immaculately clean, and the multilingual staff were friendly, helpful and extremely knowledgeable about the menu.
Sunrise Restaurant review, ideal for American-style foodies
They answered questions confidently when I enquired about the ingredients in the dishes with regard to allergies and offered suitable alternatives to accompany a dish if needed. Nothing seemed too much trouble and it was all done with a smile too!
As you might expect, the American-style menu offers the usual selection of speciality burgers and prime cuts of steak, but there's an international flavour at play, and the menu features traditional Spanish dishes, Italian-inspired pasta and pizza, and Mexican "Tex-Mex" influenced dishes, alongside fresh fish and a selection of grilled meats.
They have a wonderful selection of starters featuring soups such as a seasonal grilled vegetable platter with prices starting at €5.90. Traditional Gazpacho, onion, and tomato soup provide refreshing appetiser options.
For those looking for a lighter option the range of salads is hard to beat with prices from €9.90, and a Mediterranean grilled chicken and orange salad might be worth a try at €10.90.
A special mention should go to the pasta menu, the selection of sandwiches and wraps, and a comprehensive menu of homemade classic pizzas that we just never got around to trying.
Their fusion of cuisine has something for everyone's taste, from meat lovers to vegetarians and vegans; and they are more than happy to cater for people with special dietary requirements.
We chose to eat from the á la carte menu, which was presented to us in the English language. Spanish language menus are available for those who wish to test their skills. Both languages should be commended for their inclusion of essential allergen information.
We sampled the Manhattan Burger, served with homemade coleslaw and American-style fries, and the Sirloin steak accompanied with chunky chips and Mediterranean vegetables that had been lightly grilled so that they still had some bite and crispy crunch.
Each dish was wonderfully presented (the photos illustrate how the dishes arrived at the table), and the service was expedited rapidly.
Burgers and steaks: bistro-style and affordable dishes
The burger was priced at €8.95 with a selection of eight different burgers available including a 100% premium Angus beef burger (€12.90) and a vegetarian option.
The entrecôte steak weighed in at €15.90, with a grilled T-bone steak available for €22.90, and a Spanish-inspired roast pork knuckle cooked in beer and served with potatoes for €13.90.
A meal can be rounded off with one of their lovely desserts which complement their international cuisine theme.
The Sunrise Restaurant offers a daily special that changes every day of the week, from roast chicken salad on Monday, fried hake with chips on Wednesday, to a full special Sunday roast on Sundays with a selection of freshly roasted meats: chicken, pork, lamb or beef.
A "Menú del Día" is also available (a three-course lunch at a set price), for a bargain price of €10.90. The special menu is offered from 13:00 through 17:00 every day, with six starters, six main courses, and five desserts to choose from.
An excellent dining experience: highly recommended
With an option to fit every purse, the Sunrise Restaurant really makes the most of its spectacular location and serves great food at very reasonable prices.
The culinary team have proven that great, fresh food can be achieved at a sensible price, and it´s still possible to provide attentive service with a smile. If you're planning a visit to the area this year, we commend this charming restaurant and it should make your shortlist of places to visit. And complemented by those fabulous views too, what's not to like?
Need more information? You can find the Sunrise Restaurant TripAdvisor listing here, or click here to visit the official website.
Looking for holiday ideas and travel inspiration? Find out more about our favourite recommended things to do on the Orihuela Costa or join the La Zenia community Facebook group and find out what's going on in the local area.
Photo credit: LaZenia.com