AFTER A RATHER MIXED November with cooler than usual temperatures and unseasonably high rainfall, we're all hoping that December's weather will continue to follow a more typical seasonal trend. But generally speaking, what's the weather like in Campoamor in December, and what kind of temperatures do we usually see at this time of year?
It´s a question we're often asked, so we've compiled the latest data from the leading online weather websites to bring you an overview of what you can expect if you're living in Campoamor, or planning to visit family and friends during the festive Christmas season.
Typically, December is the wettest winter month on the Orihuela Costa – only the autumn months of October and November generally experience more rainfall, with October ranking as the wettest month of the year overall.
But everything's relative and it's not all bad news. The area registers an average monthly rainfall of just 37 mm, with an average of just 5 days out of the 31 in December experiencing some rain, so you won't need to use an umbrella that often.
Compared with more northerly climes, Berlin in Germany expects 16 rainy days in December, Stockholm in Sweden averages 18 days of rainfall, and even the (usually sun-soaked) upscale French Riviera resort of St Tropez usually experiences 9 wet days and 50 mm of rain during December.
There's more good news when it comes to sunshine too, with an average median of 6 hours of warm sunny weather per day. And don't forget, an average daytime air temperature of 17°c can seem positively tropical, as direct sunlight can add an additional 9°c on top making the "real feel" exceed a very pleasant 25°c.
However, make no mistake – evenings can be chilly with average overnight temperatures falling to just 7°c. December is the second-coldest month in Campoamor, with only January trumping the month for the coldest average daily temperatures.
Overnight frost can occur in December, but it's a thankfully rare occurrence, and you'll need your heating on in your apartment or villa every evening to feel suitably comfortable during December.
You will need a winter jacket or a coat during the early evenings, but daytime walks along some of the Orihuela Costa´s finest beaches should definitely be on your to-do list for the month, and they´re a wonderful way to enjoy some of the best views our area has to offer.
December brings the shortest days of the year to the Northern Hemisphere. The sun rises around 8:10 and it does not set until around 17:45 (CET), meaning that the average Spanish day is still a good hour longer than at more distant northern latitudes.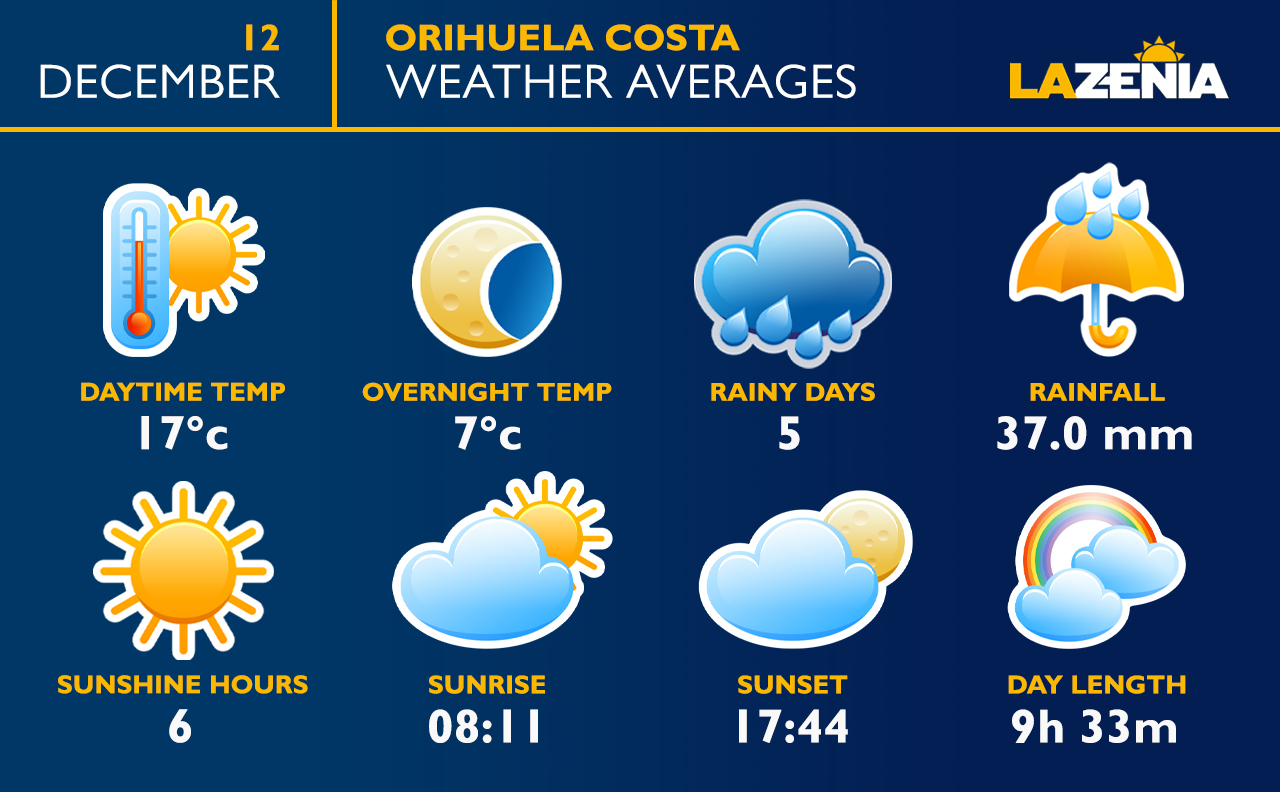 Average weather and temperatures for Campoamor in December
Swimming pools are out-of-bounds to all but the bravest or most fool-hardy, and the Mediterranean Sea maintains a water temperature of 17°c. A mere 8°c below its late-August high temperature of 25°c, but a wet suit is required for water sports at this time of year.
If you are prepared before you travel and pack some winter essentials for the evenings and cooler days, December is an excellent time to visit Campoamor. The usually turbulent months of September and October are far behind, and with the community at one of the quieter times of the year, visitors will experience the full beauty of this Mediterranean area.
Spanish winters are thankfully short and mild, and with the passing of the shortest day on 21st December days start to become longer, and it becomes clear that summer is never too far away.
You can find the full weather forecast and average weather data for Campoamor and our part of the South Costa Blanca in Spain from the Holiday Weather website by clicking here.
Looking for holiday ideas and travel inspiration? Find out more about our favourite recommended things to do on the Orihuela Costa or join the La Zenia community Facebook group and find out what's going on in the local area.
Photo credit: LaZenia.com