THE AFRICAN GREATER FLAMINGOS that flocked to Torrevieja over the past summer gave birth to more than 1,200 baby flamingos, at least double previous estimates.
The distinctive pink-hued birds began arriving in record numbers in March, attracted by an abundance of brine shrimp, unique weather conditions, and relative tranquillity – a vital ingredient required for successful breeding.
The CoVid-19 pandemic and the lockdown that accompanied it brought commercial salt-harvesting activity in the lagoons to a standstill.
Flamingos are notoriously selective about their reproduction habits, and the tranquil habitat accompanied by the low accessibility of the area selected for nesting proved to be a boon for the birds.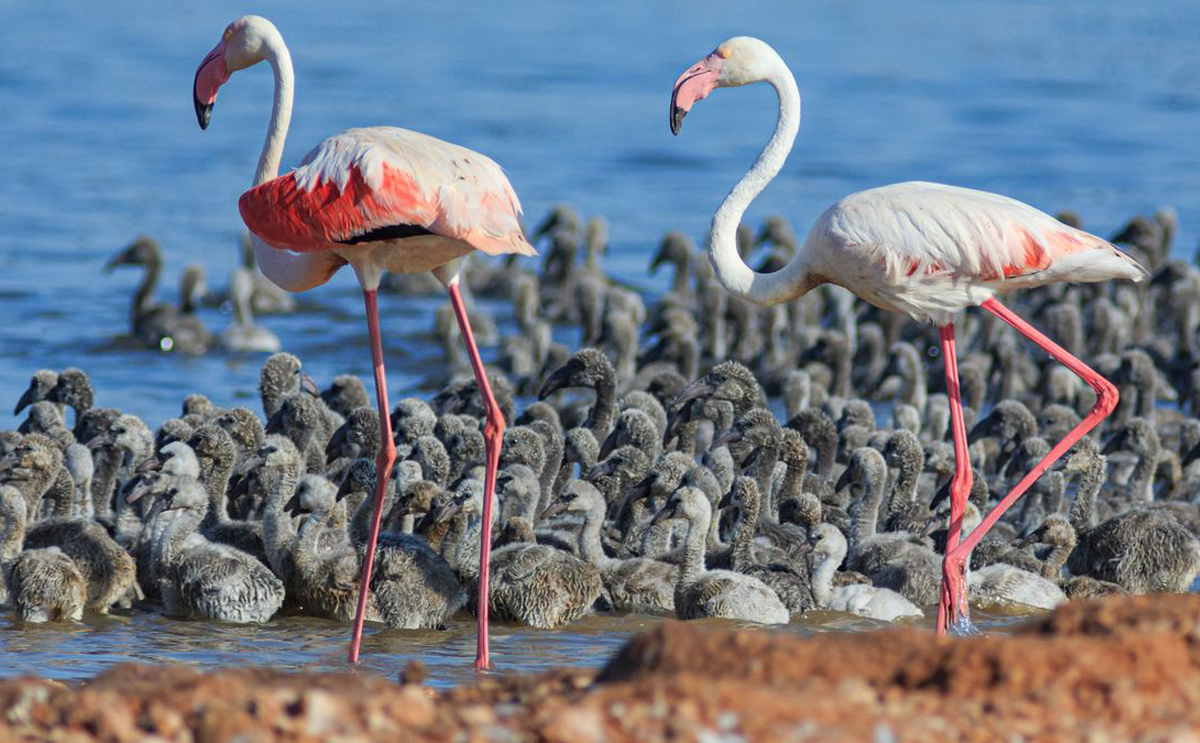 Flamingos breed in Torrevieja for the first time since 1983
When mating pairs of flamingos began arriving in the city earlier this year, the local environmental authorities established a discreet surveillance plan to provide the flamingos with the isolation they needed to breed successfully.
By June, distant observations confirmed around 1,500 breeding pairs of flamingos, and for the first time in nearly 40-years, the birds had established nurseries and constructed nests on a sandbar in the wetlands adjacent to the vibrant pink salt lake.
Official estimates put the number of offspring at around 600, but with breeding underway, it just wasn´t possible to approach the nesting site at that time.
With the breeding season now concluded, officials from the Ministry of Agriculture and Ecological Transition moved into the area to inspect the site.
They found 1,244 nests distributed in 13 areas along a 1,500-metre stretch of islets isolated by floodwater sections.
Baby Flamingo numbers double initial estimates, with more than 1,200 birds.
1,237 confirmed baby flamingos were documented via photographic monitoring, more than double the initial estimates, but an examination of the nests and the remaining egg fragments suggest that at least 160 nests were reused by a second pair of flamingo parents.
Ring readings of some of the remaining adults in Torrevieja revealed that some of the 1,404 breeding pairs of flamingos came from other areas in Spain, including Punta de la Banya in Tarragona), Marismas del Odiel in Huelva, and Laguna de Fuente de Piedra in Málaga.
With commercial activity returning to Torrevieja´s salt lakes, a substantial drop in the water level, and a return to the lakes hypersalinity, it may be some time before flamingos return to the city to successfully breed again.
But with most of the teenage birds now dispersed throughout wetlands in the Alicante Province, large groups of this summer´s adolescent flamingos can still be seen adjacent to the N-332 coast road in Santa Pola and San Pedro del Pinatar to the south.
Looking for holiday ideas and travel inspiration? Find out more about our favourite recommended things to do on the Orihuela Costa or join the La Zenia community Facebook group and find out what's going on in the local area.
Photo credit: Federico Kenzelmann / Miguel Ángel Villar / Informacion.es